Recipe: Xmas mini nougats egg free
by Blu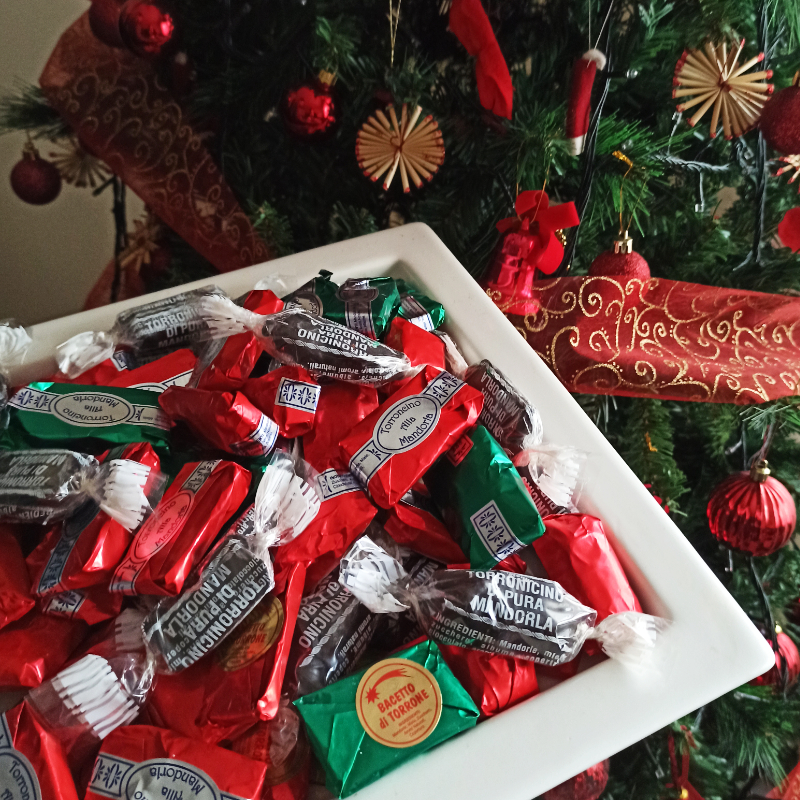 This is a sweet, simple and easy recipe to make homemade mini nougats chocolate-covered, sweet treat to enjoy with family and friends during the holidays, perfect also as a gift.
In Italy we have numerous variations of this dessert from north to south (I've already showed you
one recipe in the AK2020
) and today it's the turn of the Calabrian type...Its peculiarity? The absence of egg white.
Ingredients:
500gr blanched almonds (cut in half)
100gr peeled pistachios
130gr honey
115gr white sugar
400gr dark chocolate
400gr white chocolate
2 tsp vanillin
1 lemon (zest and juice)
2 sheets of parchment paper
Instructions:

Zest the lemon for the recipe and then cut it in half: pass it on one side of the two sheets of baking paper (this will prevent the mixture from sticking). Put the honey into a saucepan and cook over low heat, stirring constantly. Add the sugar and vanilla while continuing to mix. Then add the lemon zest.

When the mixture taken a golden/caramel colour, add the almonds and pistachios little by little (you can also add hazelnuts if you like it).

Pour the contents over a sheet of baking paper greased with lemon and flatten it while still hot. Place above the second sheet of baking paper (with the lemon side inside) and start rolling out the mix with a rolling pin to flatten until it is about 1-1.5 cm thick.
Remove the upper sheet and cut all into small pieces (ca 1x4cm), then let them cool. After few hours you can proceed with the coating: melt the dark chocolate over a bain-marie, dip and roll the nougats in using forks. Put on a tray and let cool. Repeat the same operation with white chocolate. Repeat the covering operation if the layer is too thin.

When the chocolate has set, they will be ready for packaging.

Happy Sweet Holidays!
(thanks to Consuelo and Antonino ♡ )