Xmas DIY project: concrete plant pots
by Blu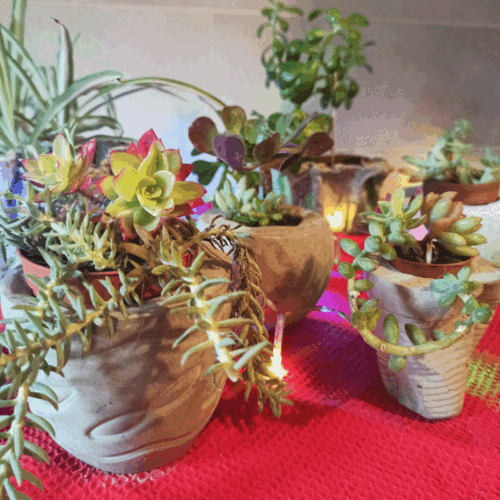 Concrete pots / containers easy to make with poor and recycled materials to furnish the home or as a nice Xmas gift idea for relatives and friends.

You can use your imagination with what you find at home: often reusing existing items or waste materials as molds can lead to very original solutions.
What is needed:
cement, rapid set (or concrete mixes)
water
a container to mix the concrete in
containers (you will need 2 containers for every pot, 1 for the outer and 1 for the inner mold): plastic bottles, flower pots, plastic or paper containers, glasses, cloth
baby oil (or motor oil)
safety mask and disposable gloves
stones or marbles as weight / ballast
How to make:
choose the outer container: it can be a part of a plastic bottle (perhaps with relief decorations), a glass or a bowl, and then find the right container for the inner mold
prepare the mold: wipe the inner and outer molds with baby oil or release spray.
mix the concrete in a separate container, with water until the consistency of a cream.
fill the bottom of the outer planter then place the mold inside and fill around the sides evenly with concrete mix. Fill the inner mold with stones or marbles to prevent it from returning to the surface.
once the concrete is set up, hard but not dry, you can release it from the inner mold. If you wait longer, the harder it will be to release. After a day you can also remove the outer molds. (keep in mind that you may have to break the molds to remove them).
the pots will take about some days to fully dry, depending on humidity, thickness, and how much water you added; you can decorate, color, or you can leave the pots like this, perhaps perfecting their surface with sandpaper, then you can fill it with dirt and put your plants in or insert your flower pots.
The beauty of these DIY concrete pots is that they can be made in all sorts of shapes and sizes (these are some examples)