Recipe: Quick Xmas Snack
by Blu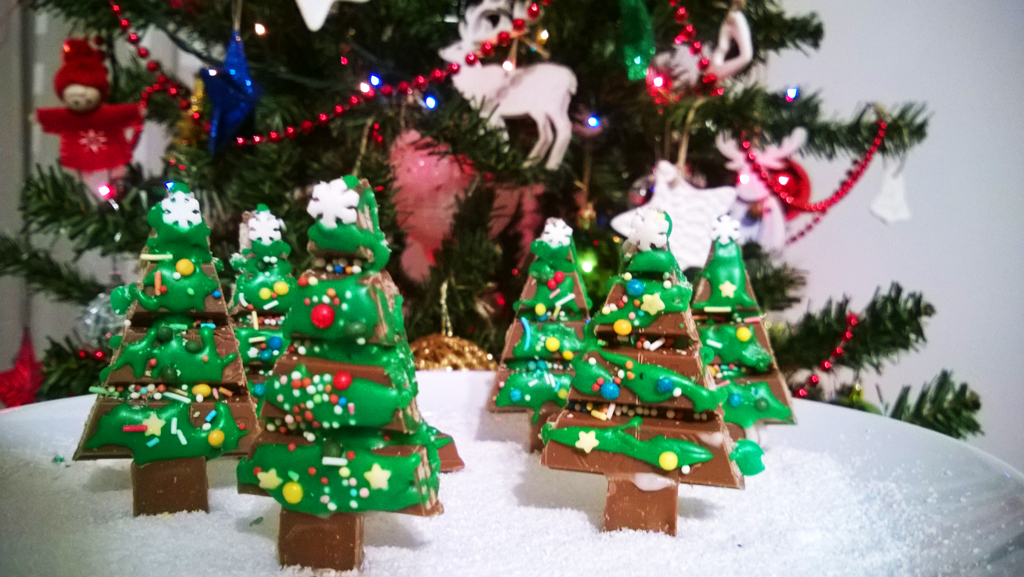 A very quick no bake Xmas snack that children will adore, a mini forest of KitKat' trees ^^

Ingredients:
KitKats
Powdered sugar
Water
Food coloring
Colored rainbow sprinkles
Desiccated coconut
Method:
Cut the KitKat' chocolate rectangle diagonally to obtain three triangles; don't throw away the remaining pieces, these will be used to make the trunks of the trees (we will paste these with a little bit of water icing).
Create the water icing: put the icing sugar into a bowl and add green food coloring (or the color you want); then add water 1 teaspoon at a time until it's thick enough to use. Cover the trees with the water icing (little or completely, as you prefer) then place a sugar star or snowflake on the top of the tree and the colored sprinkles to decorate.

When the trees are dry, peel off with a knife and dip the trunk of the trees in water icing to stand up them on a serving plate. You can use dessicated coconut for a snowing effect. The snack is ready!