Xmas Stained Glass Cookies
by Blu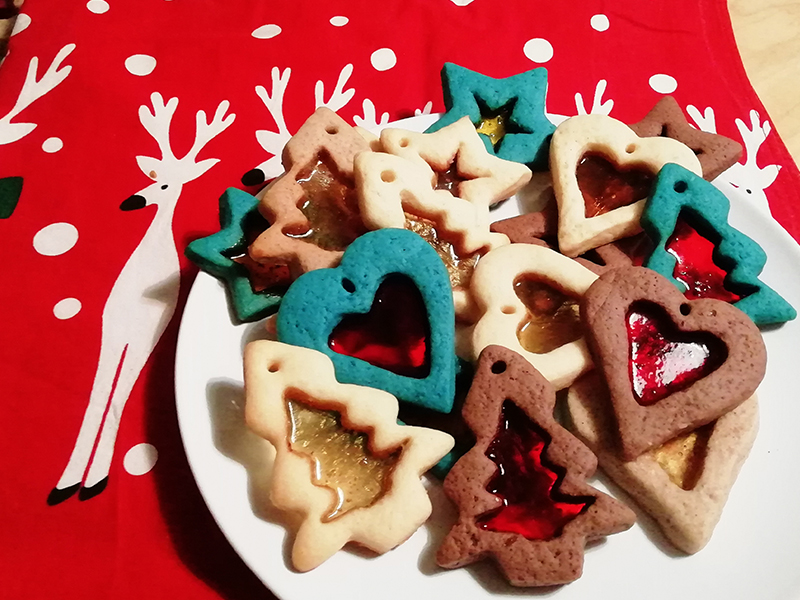 This is an idea to make delicious and nice cookies to eat or to decorate the Christmas tree or windows: cut into festive shapes and filled with hard candies, when they're baked and the candy melts into an even layer you get a beautiful stained glass effect. You can use your favourite cookie recipe or the one that I propose you below:
Ingredients:
500gr flour
250gr butter
200gr sugar
2 eggs
½ packet of yeast (ca 8gr)
1 tablespoon of cinnamon powder
1 tablespoon of cocoa powder
½ vial of lemon flavor (1ml) or lemon zest
30-40 hard candies, preferably in several flavors/colors
food coloring
Method:
Prepare the shortcrust pastry: in a large bowl combine the butter and sugar; then add the eggs, the flour with a pinch of salt and the yeast. Knead the dough until is soft, elastic but not sticky, then divide it into parts as many as the tastes (in this case three) and in each add the ingredient to give different flavor. Make a balls, wrap the pastry in plastic wrap and store in the refrigerator for at least 30 minutes.

Meantime you have to crush candies: remove any plastic wrapping on the hard candies, sort them by color and place into separate plastic bags, then crush the candies with a rolling pin, meat tenderizer or hammer.

Preheat oven 180°C. Roll out the dough on a floured work surface (or between two sheets of baking paper) to about 4-5 mm thick. Use your favorite cookie cutter and cut into difference shapes. Cut with the same (or other) smaller shape then sprinkle the crushed candy into the empty centres of the cookies, filling them to the edges. If you plan on using the cookies as decoration, to be hung as an ornament, poke a small hole in the top of each cookie before baking. Bake the cookies for 10 to 15 minutes, until the edges begin to brown.